New & Used Cars, Trucks & SUVs Near Edmonton, AB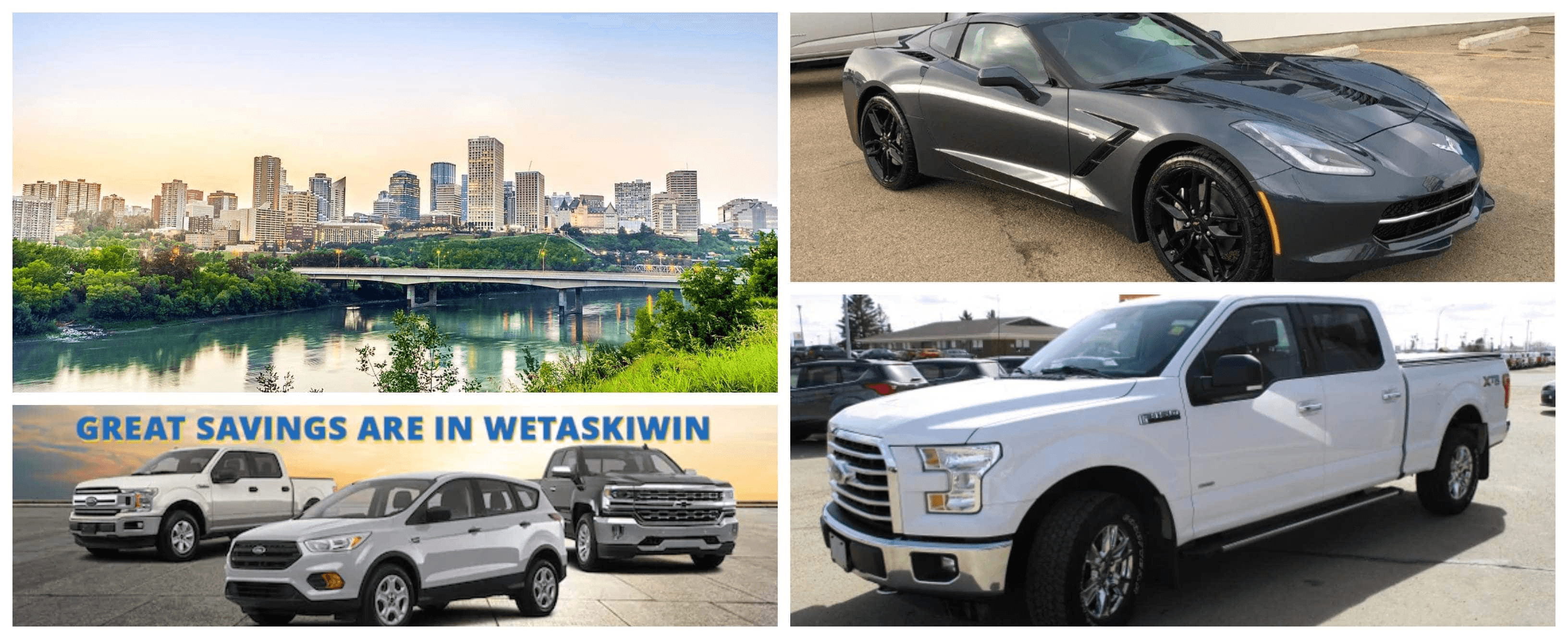 Save Money When Buying a Car From Edmonton
Cars Cost Less in Wetaskiwin are always happy to help would-be car buyers from Edmonton save money on their next vehicle purchase. We have large range of both new and used car, trucks, SUVs and vans for sale near Edmonton, AB.
Discover why Edmonton car buyers are making the trip to Wetaskiwin for HUGE savings buying a new car. Our sales teams are here to help you make the best educated decision and always give everyone who walks through our doors exceptional customer service.
Looking for New Car & Trucks for sale in the Edmonton Area?
We have a massive selection of New  Buick, Chevrolet, Ford, and GMC Inventory, including all of the latest models, such as the Ford F-150, Escape, GMC Sierra 1500, Chevrolet Silverado 1500, Cruze, and Buick Encore. So whether you're looking for a rugged truck for work or for outdoor adventures, or you're looking for a slick car to cruise the streets of Edmonton, we have something for all lifestyles.
Looking For Something a Little More Budget Friendly?
Not only do we have a large selection of new inventory we also have an extensive array of used vehicles too. With cars, trucks, vans, and SUVs from Ford, Chevrolet, Ram, Toyota, Buick, Dodge, GMC and more, it's no wonder so many drivers are making their way from Edmonton to find their next car here. With options this endless, we're confident you'll be able to find a car that fits your lifestyle and your budget at our Wetaskiwin Dealership.
While You're in Westakiwin
When you make the trip from Red Deer to Wetaskiwin be sure to stick around because there is so much to do here:
Reynold Alberta Museum
Canadian Aviation Hall of Fame
Manluk Centre
Edmonton International Raceway
Our Dealerships in Wetaskiwin, AB
What Our Happy Customers Say
"Colin was phenomenal when we called in for an F150, and really helped to get the right options as far as tow packages go and double checking the door sticker payloads would be enough to buy again but they crushed Calgary on price and even delivered the truck too!"
Drive back to Edmonton in Your New Car
So what are you waiting for? Come on down to Cars and Trucks Cost Less in Wetaskiwin today to find your next ride! Located just an hour from Edmonton, we're a local New and Used Ford, Chevrolet, Buick, and GMC dealer that you can count on! See step-by-step directions to our dealership below. And don't hesitate to contact us with any questions.
Directions From Edmonton to Wetaskiwin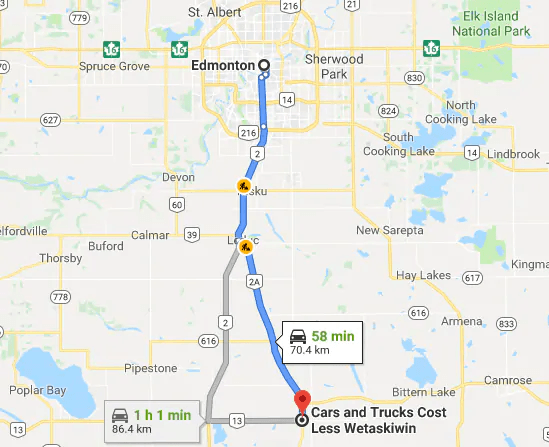 Take Scona Rd NW, Saskatchewan Dr NW and 104 St NW S to Calgary Trail NW 7.0 km / 11 min
Take AB-2 S to Alberta 2A in Wetaskiwin 61.9 km / 42 min
Continue onto Calgary Trail NW 5.7 km
Continue onto AB-2 S (signs for Calgary/Edmonton International Airport) 22.0 km
Take exit 516 toward AB-2A/Wetaskiwin 800 m
Continue onto Alberta 2A
Cars and Trucks Cost Less will be on the right
Make an Inquiry