What is the best used car dealerships in Edmonton area?
What is the best place to buy used cars in the Edmonton area?
As always, smart shoppers can be expected to garner the best deals in used cars no matter what brand or model they favor, and used-car prices can vary widely depending on where you live and shop. Alberta automotive data shows that used-car prices are the lowest in Wetaskiwin, where they're less expensive than the national average.
So make sure you look outside of Edmonton and set the search to Wetaskiwin dealers:
Adams Chevrolet Buick GMC are one of Alberta's largest Chev, Buick and GMC Dealers. They have two great locations to better serve you including one in Wetaskiwin and another in Ponoka.
Brentridge Ford is an award winning dealership that has served in the Wetaskiwin community for over 30 years. They have won received awards for the North American Customer Excellence award as well as the Presidents Diamond Club Award for outstanding customer service.
Denham Ford has a rich history with Wetaskiwin, being in the community for over 70 years. There long standing history within the community has helped them achieve great recognition and standing. Along with Denham they offer all types of new and used Ford vehicles.
Directions From Edmonton to Wetaskiwin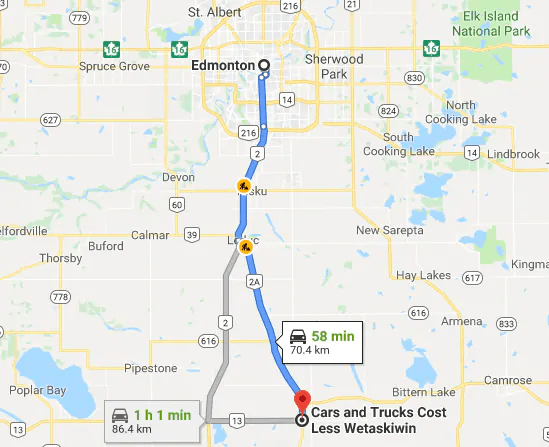 In Alberta prices can vary substantially from city to city, and depending on where you live, it may pay to look beyond your postal code to find greater savings. In fact, dealers located within a 40-km radius of a major city generally offer lower prices on equivalent models than their counterparts located in rural areas. A recent survey found that on average, city dwellers paid less for a used car at local dealerships than did those shopping at suburban and rural lots in the same state.
Cars and Trucks Cost Less Carries Chevrolet, GMC and Ford vehicles through our three car dealerships in Wetaskiwin, AB. We offer an incredible selection of Used Cars and are always ready to help you find your vehicle.
Serving a large area of Alberta, we have many customers come to our dealership from Edmonton, Calgary, Red Deer, Camrose and beyond. There are many great reasons to buy a car in Wetaskiwin.
For financing for your used or new vehicle visit our financing page.
Areas We Serve